RENEWABLES
Morvern Community Development Company continues to investigate the hydro possibilities in the area.
Following invitation by Forestry Commission Scotland (FCS) in 2012, Morvern Community Development Com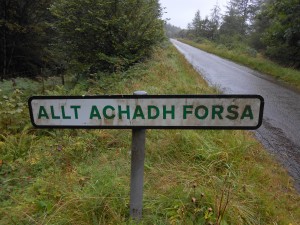 pany (MCDC) expressed an interest and secured 5 potential sites on the land belonging to FCS for potential hydro development. MCDC have conducted a preliminary feasibility that identified 2 of the schemes as being most viable. The burns are Allt Achadh Forsa and Barr River. The schemes could potentially generate between £38K and £405K per annum for the benefit of the community of Morvern, depending on which scheme option is chosen. MCDC is planning on further investigating the feasibility of generating hydroelectric power on the sites and develop the project if they are found to be viable and suitable for hydro schemes and the community are in favour of the opportunity.
The investigation forms part of Community Growth Plan and is supported by Morvern Community Council (MCC). MCDC Development Officer attended one of the Council's meetings and outlined the plans for community based and owned hydro schemes in Morvern. MCDC have already invested £30,000.00 into Sallachan hydro scheme, currently realised by a commercial developer.  The investment was possible with financial support from Morvern Community Trust.
MCDC have applied and successfully secured £150,000.00 Scottish Government Community and Renewable Energy Scheme (CARES) loan which can pay up to 95% of pre development costs and can become a grant if the project is considered not viable.
MCDC conducted a community ballot prior to applying for National Forest Land Scheme (NFLS) in order to secure the land. The ballot took place in December 2014. The percentage return was 56.7% with 94.3% of local community saying YES to the hydro schemes being developed.
Prior to the ballot, MCDC prepared a Morvern Community Hydro information pack which had been sent out to every household in Morvern and scheduled a Public Meeting to discuss Morvern Community Hydro in October 2014. You can view the document here –  Morvern Community Hydro Information Pack
MCDC carried out a procurement exercise and appointed Hydroplan as our consultants for the full feasibility on the hydro schemes in 2015. Hydroplan have carried out a lot of work and research since their appointment.
All environmental studies have been carried out, i.e. archaeology, birds, hydrology, fish, bryophytes, habitats, landscape, mammals, noise etc; rivers flow data has been collected for a period of one year; the design of the schemes has been developed, Grid connection applied for an secured. With all the information in place, MCDC is now in a position to apply for planning. Planning can take between 6 months and 1 year to achieve.
MCDC held a public meeting on 2nd March 2017 where Hydroplan presented the Barr and Allt achadh Forsa schemes to the community. The meeting was attended by 25 members of the community and the Forestry Commission Scotland was in attendance as well to answer any questions people might have. Hydroplan's presentation can be found HERE.
The meeting on 2nd March identified the communities' continued strong desire to realise hydro schemes in Morvern.
Hydroplan are currently preparing planning applications for both schemes. MCDC will keep the community informed with the progress.
We thank everyone for their continued support. If you feel that you have some expertise that would be useful for the realisation of this project, especially if you have knowledge and experience of putting together financial packages for hydro schemes, please get in touch.
Update October 2018
We have now applied for planning permission for Barr Hydro. The planning application submission is under this link https://wam.highland.gov.uk/wam/simpleSearchResults.do?action=firstPage
18/04708/FUL | Installation of hydro-electric scheme (up to 1650kW capacity) including buried pipeline, intakes, powerhouse and switchhouse buildings, outfall, compounds and access tracks (Barr River Hydro Scheme) | Land 3370M West Of Ardantiobairt Morvern
The Highland Council redacted a lot of the information on various environmental surveys and documents but if anyone would like to have a read of any of the documents, then please get in touch and we will be happy to share the unredacted documents with you.